Former Snap Inc. executive Imran Khan just rolled out his newest venture: a luxury e-commerce platform that emphasizes a personal touch. 
The idea for Verishop sparked when husband and wife duo Imran and Cate Khan were shopping for home goods. They were looking for items that were unique and interesting, but had a hard time telling counterfeits from the real deal in most digital storefronts.
"We had a personal frustration and felt there was a gap in the market for a place of trusted products, and that's what we set out to do," Cate Khan told Built In.
She is formerly senior vice president and head of retail at Quidsi, which was acquired by Amazon. Imran Khan, meanwhile, was responsible for bringing Snap Inc. from zero in revenue to $1.6 billion
These two executives know a thing or two about tech companies and retail, which is why they sought out to create a site that combines the two seamlessly.
We wanted to put the fun back in shopping and speak to millennials in ways that other marketplaces have not."
Verishop is a premium e-commerce site, with categories including women and men's clothing, beauty and home goods. Levi's, All Saints and AG are just three of the 160 brands on the site, making up about 4,000 items for sale. Unlike many marketplaces, Verishop maintains its own inventory, buying merchandise directly from brands to ensure products aren't counterfeit.
The startup also provides 24/7 customer service with free two-day shipping and returns.
The site sets itself apart from competitors with two distinct features titled "Tastemakers" and "The Responsible Shop." In an effort to emulate the discovery of in-store shopping on the site, "Tastemakers" lets influencers like Alex Costa and Jess Conte run their own shops on the site and handpick sales items they love.
"The Responsible Shop" accounts for the increasing awareness consumers have about sustainable fashion practices. It has categories including cruelty free, clean beauty and fair trade, so consumers can shop for brands that match their vision of social responsibility.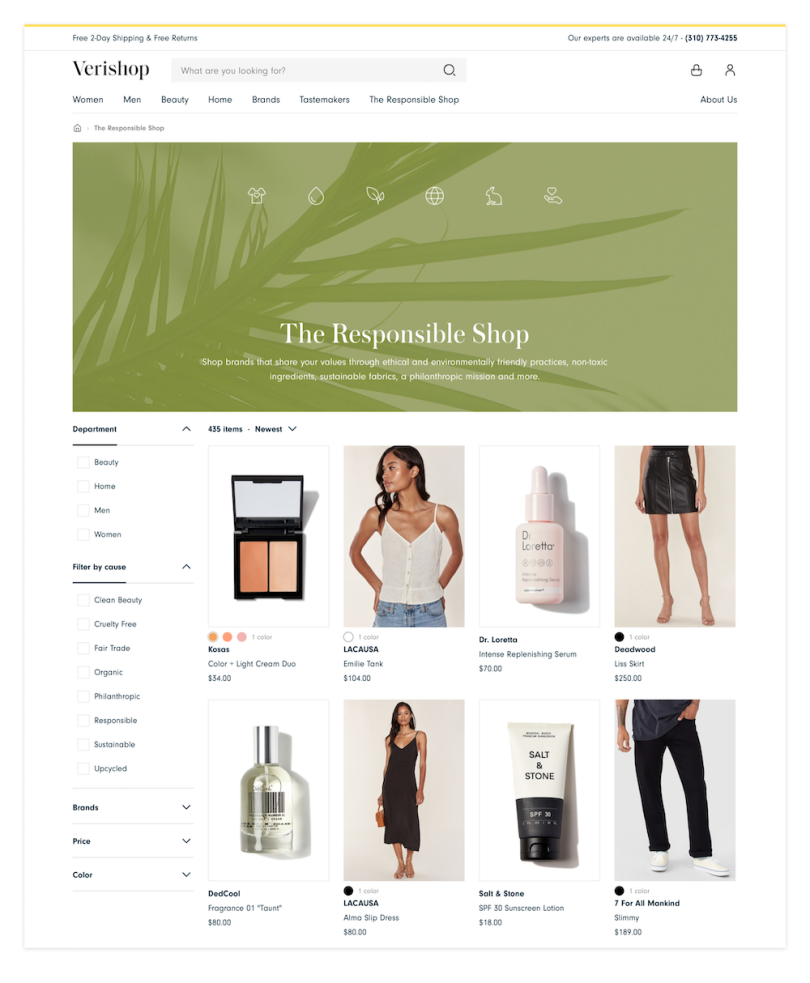 Looking ahead, Verishop is expanding its tech products and it's also rolling out a podcast next month. The podcast will be hosted by Alex Barinka, previously a Bloomberg reporter, who will interview the people behind the brands consumers love.
Verishop is headquartered in Santa Monica, Los Angeles with fifty employees. The company has secured a total funding of $17.5 million and is currently hiring in engineering, design and more.