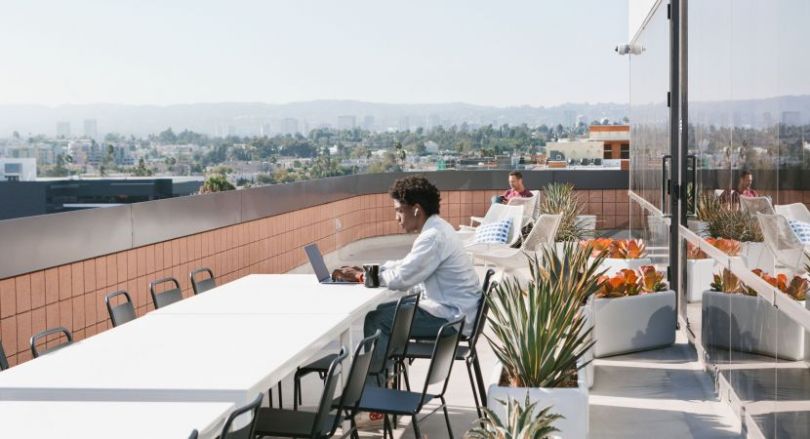 WeWork added yet another feather to its cap this sunny Wednesday morning. News broke via The Los Angeles Business Journal that WeWork signed a lease on more than 116,000 square feet of office space in Santa Monica, just blocks from Bergamot Station. 
The building, located at 3000 Olympic Boulevard, is scheduled to open this summer and will have space for roughly 1,100 occupants according to reporting from LA Biz. While the value of the sale has yet to be disclosed, we surmise that price tag had heft, based on property values in Santa Monica. 
The new location will be the co-working behemoth's twentieth in the LA area, with offices stretching from the region's northernmost reaches in Burbank to it's southernmost in Long Beach. The space, which is already listed on WeWork's website, is the company's third in Santa Monica, located just off the I-10 and within walking distance of the popular Metro Expo line.
To understand the saturation of WeWork spaces in Los Angeles, consider 3000 Olympic on a map of WeWork's existing properties. The new office is less than 4 miles from WeWork's Constellation Place in Westwood, 4.5 miles from One Culver in Culver City and just 2.1 miles from 520 Broadway. The latter two properties, like 3000 Olympic, are also just off the Expo line — it might take an eight minute Metro ride to shuttle between them.    
WeWork's parent group The We Company — named such in early January, around the same time Softbank invested $2 billion in the company — is based out of New York City and has raised a staggering sum of money (more than  $12 billion) since launching under the name WeWork in 2010. 
The 2019 name change is indicative of a larger shift in WeWork's business strategy. Last month the company launched WeLive and WeGrow, two additional businesses under the We umbrella. Exactly what those verticals do is still hazy, but the end game they're indicative of is clear: growth.
In a profile on the company, Fast Co. noted that the goal, much like Amazon's of becoming the everything store, is for The We Company to provide a space for everything a customer might want to do — an everywhere store, if you may. Today the company's space-as-a-service business includes office consultations, architecture, construction and office management services. 
If one thing's clear, it's that WeWork's got a lot of growing to do in 2019 to keep up with a mountain of funding and a $47 billion valuation. Luckily, space is no issue.