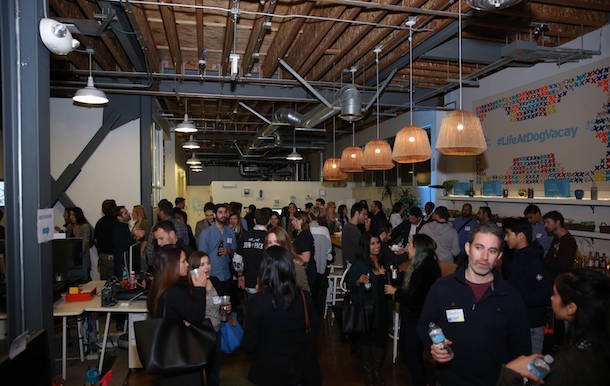 Every week, we dig through our calendar to bring you the five most exciting events in LA tech. Check out our top picks below, and be sure to look at our full event calendar for more LA tech events.
Built In Brews at Dollar Shave Club, October 12 at 6:30 p.m.
Come one, come all for another edition of Built In LA's Built In Brews, hosted by Dollar Shave Club. Learn more about one of the country's most successful e-commerce brands, and stay for the taco truck, cocktails and great conversation. Also on hand will be Dollar Shave Club's in-house hair stylist and the Built In LA team. Get your tickets while you still can!
2nd Annual Glendale Tech Week, October 9 at 5 p.m.
The second annual Glendale Tech Week kicks off this Monday evening at the Alex Theatre in the heart of Glendale. Be sure to stop by for the presentations, including Tech in Manufacturing: A CNC Machine Demonstration and A Futurist's Look at the Restaurant Business. Also presenting will be NASA visual strategist Dan Goods, VR guru Chadwick Turner and Scott Painter, who founded TrueCar, CarsDirect and Fair.
Tech Talk Tuesday October 2017, October 10 at 11:45 a.m.
Want lunch, but want to stay productive? This week's Santa Monica Chamber of Commerce Tech Talk will take place at General Assembly in Santa Monica, with Perry's Cafe and Beach Rentals providing the lunch. This month's guest speaker is Somya Mungal, CPA, who will discuss how technology can be used to positively change local businesses.
Silicon Beach Networking Mixer At WeWork In Playa Vista, October 11 at 6 p.m.
A mid-week tech mixer is a great excuse to get out of your apartment, have a few drinks and get some networking done. And if that doesn't sound enticing enough, what if we told you drinks were free? Head down to the WeWork in Playa Vista for knw media's latest meetup — and don't forget to register!
Nonprofit Volunteer Management, October 11 at 7 p.m.
This Wednesday, the LA Cleantech Incubator is hosting two volunteer management professionals to discuss the positive impact volunteering initiatives can have both on the community, and on tech employees.
Have a great week, and be sure to check out our events calendar for more LA tech events!