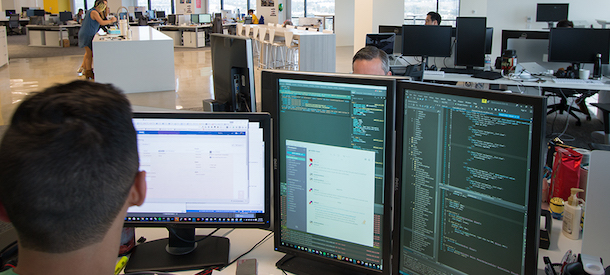 There are all forms of startup accelerators and innovation labs in the tech world. And while they all have the same purpose of developing new technologies, there is no cookie-cutter way to operate them.
Some focus on early stage development and seed funding, others on polishing an existing product and reaching a sizable series A. 
Casual, open office overlooking the water. -- Did we mention we are minutes away from the Ocean?
of Irvine has taken an entirely different approach and everyone — including their employees — is reaping the benefits. 
Their two-pronged innovation lab utilizes their in-house developer talent to incubate small startups while also working with large corporations to problem solve with technology. The businesses receive solutions for their needs and Cie Digital receives the opportunity to create market-altering technology that can evolve into self-standing, spin-off startups. And to make sure their employees continue to churn out top notch ideas, they offer everyone in the office stake in any spin-off created. 
The company is run by Justin Choi and Anderee Berengian. Choi currently leads
— an ad tech company that owes its life to Cie Digital (but more on that later). Berengian serves as Chairman and CEO of Cie Digital, where he oversees day-to-day operations while focusing on strategy and business development.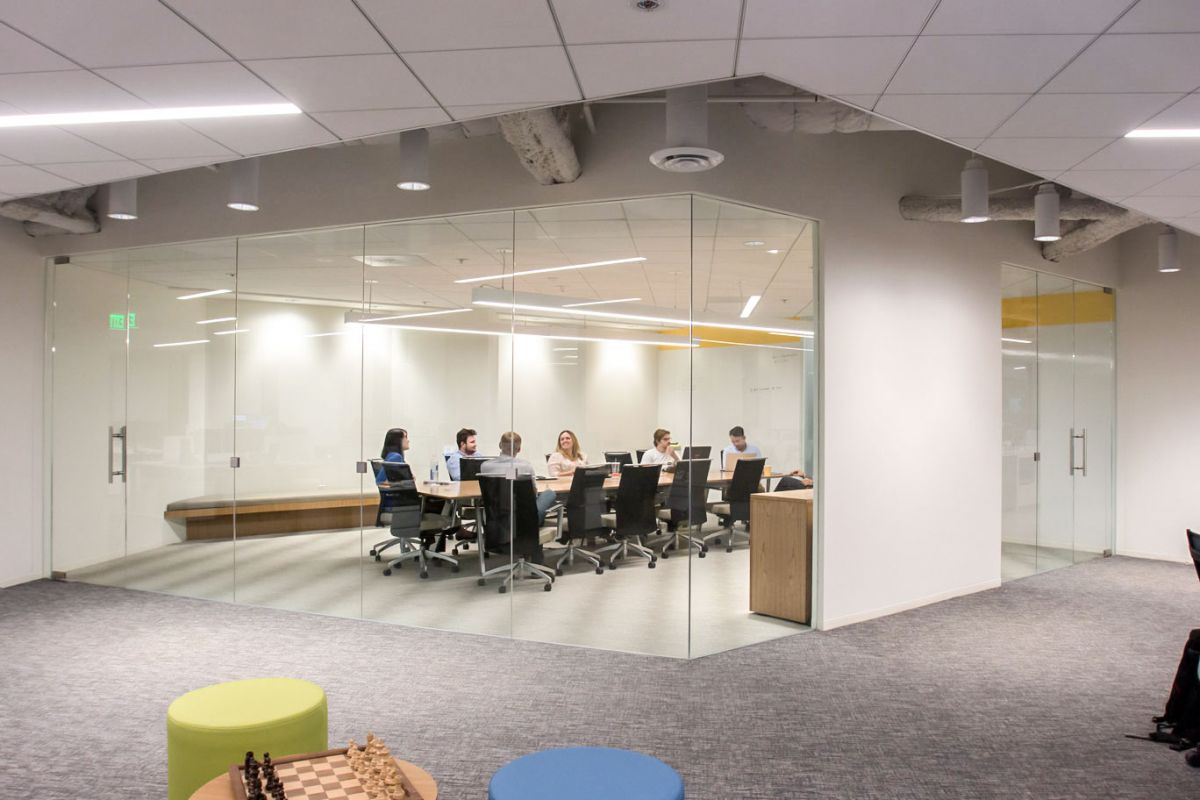 Playing with the big dogs
Berengian's big whiteboard of clients currently has around a dozen major corporations, most of which he is restricted from talking about. 
But in regards to past success, Cie Digital's first major feat was the creation of Car Town for Toyota's Prius launch. The goal was to market the new car to influencers through an engaging game and in the process of reaching that goal, Cie Digital's first spin-off, Cie Games, was created. The game saw so much success and engagement that Cie Games continued to grow and was eventually acquired in 2014 for around $100 million.
"We're not just outsourced development, we are these companies' innovation partner," said Berengian. "All things technology, we are participants in. Whether they're going to get something that they're going to implement something off the shelf or whether we build it, we help figure what they need to do and give them opinions on that."
One of the other early companies in Cie Digital's portfolio was Nitto Tires, who asked the innovation labs to launch a new tire line without traditional forms of advertising. Cie Digital targeted influencers on popular forums with advertising that appeared as content. The native advertising approach delivered what Nitto had hoped for and Cie Digital realized they had created a larger advertising solution for the industry. They turned the project into the spin-off Nativo, which has since raised more than $30 million in funding. 
"With many of these larger companies their goal isn't around innovating and creating startups, they're just looking for tools to run their behemoth businesses better. Nitto looked at it as a marketing campaign, not new technology," said Berengian. "For them, they checked the box and moved on to the next tire release. For us, we said wait a second, this can be used in scale."
Depending on the project, Cie Digital either maintains and develops the IP alone or they co-own the IP with the company. And if they innovate for a large corporation they train the in-house IT team to maintain the tech before moving on to the next need.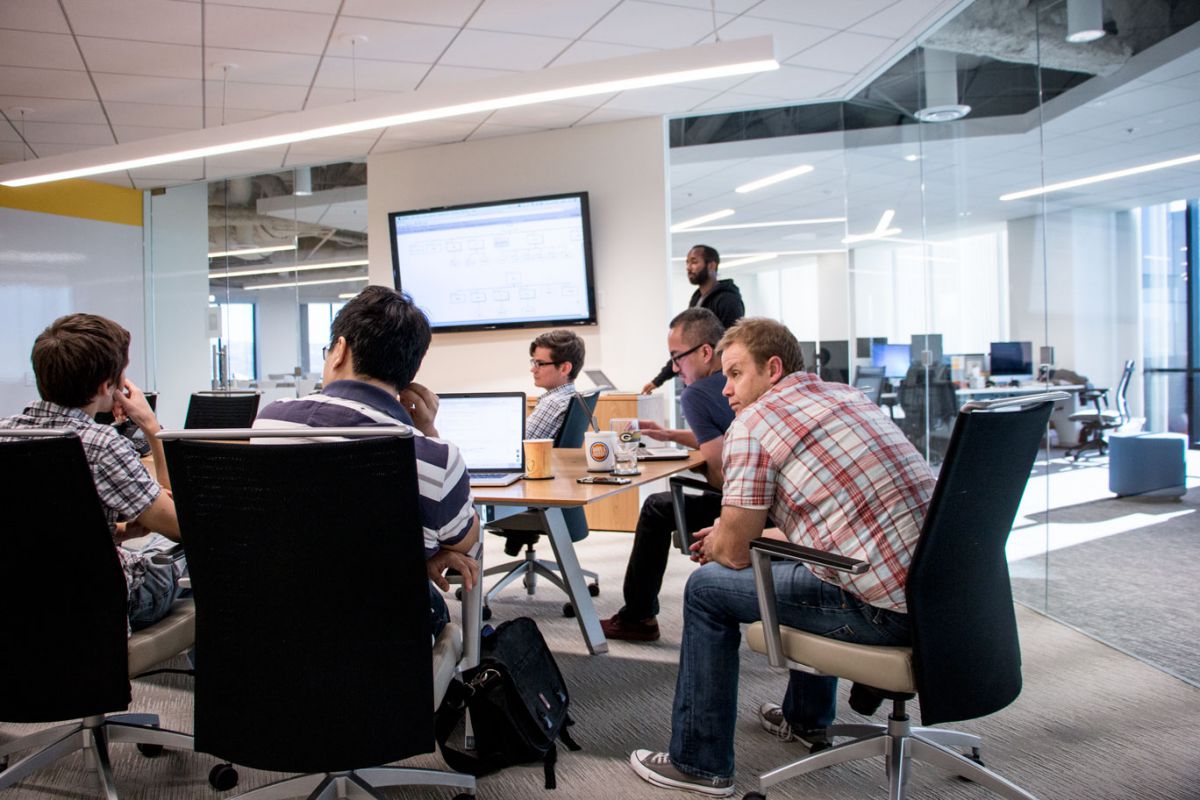 Developing small startups at a rapid pace
On the incubation side of the company, Cie Digital utilizes their developer talent to get small startups off the ground quickly and efficiently. 
"If you're building a bunch of homes, if the foundation guy has worked with the framing guy and he knows how the foundation should be finished and prepped so the other guy can get in there and frame the walls really quickly, the whole project is more efficient and everything is much higher quality. The way software is made is very much like that," Berengian. 
By avoiding the need to search the market for hard-to-find engineers and developers, startups can get their product off the ground before making any key hires. And unlike the the other side of the business, Cie Digital expects all of the startups they accelerate to function independently outside of the company.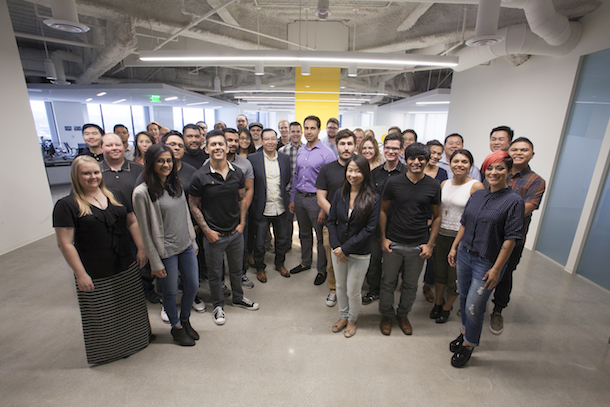 Rewarding innovation
From an engineer's point of view, Cie Digital has an ideal set up. Not only does everyone in the company get a piece of any spin-off startups (turning them into mini-venture capitalists, but engineers and developers can pad their portfolio while working on projects for massive corporations.
"Engineers can be a little challenging to work with because they always want to do something new and cool," Berengian said. "And the thing we provide them with is the ability to work on massive, very important projects that could affect ridiculous amounts of revenue. And then once when they're done with that project, they can go on to another."