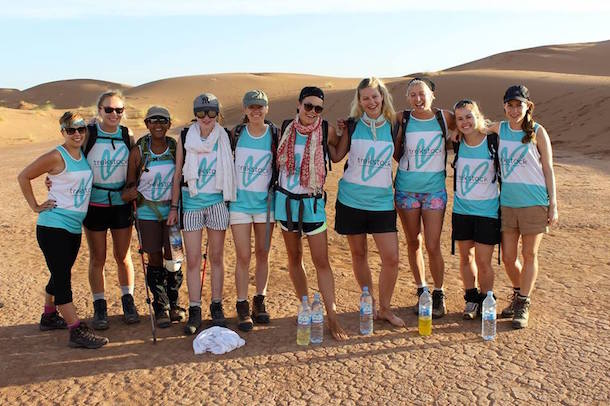 The nascent industry of digital meditation is steadily expanding, and Venice-based Headspace is intent on taking the lead.
A self-described "gym membership for the mind," Headspace offers collections of recorded sessions designed that teach flexible mindfulness techniques via a mobile app and website. "Headspace is based on mindfulness, which is the intention to be present in the here and now, fully engaged in whatever is happening, free from distraction or judgment, with a soft and open mind," said founder Andy Puddicombe.
Headspace is the product of intense, sustained study of the origins of meditation. Before its launch in 2010, Puddicombe meditated regularly for ten years in the Himalayas, culminating in his ordination as a Tibetan Buddhist monk in Northern India. Two years after his return home to the UK, he established his own meditation practice. The company also has an office in the UK, in addition to its headquarters in Venice.
"Really the idea comes from a meeting of east and west," Puddicombe said. "My desire [was] to make meditation more accessible." Two years earlier, Puddicombe met Rich Pierson, who sought meditational guidance to counteract the daunting nature of his career in advertising. Eager to combine Puddicombe's ardor and knowledge with Pierson's brand development expertise, the two "did a skill swap" and decided to dedicate their talents to a new enterprise.
In addition to offering users an accessible channel for meditation, Puddicombe and Pierson intended to make their product as flexible as possible, encouraging users to employ it under the circumstances that suit them. "It is easy to fit into your schedule; you can do it on the bus on the way to work, or over your lunch break," Puddicombe said.
Users can also choose whether to pay, and how much. The app offers a free introductory program called Take10, which allows users to practice one basic, guided ten-minute meditation a day, for ten days; each exercise has a specific concentration, such as enhancing creativity or reducing anxiety. Those willing to invest more time (and money) can subscribe on a monthly, annual, biannual, or permanent basis, with unlimited access to the "Headspace Collection," a library of original content created to facilitate guided and unguided meditation.
[ibimage==33246==Medium==none==self==ibimage_align-left]
The Headspace Collection, which constitutes the bulk of the service, is designed to accommodate a variety of moods, schedules, and circumstances. It consists of three parts: Foundation, and the newly launched Series and Singles (part of the latest version). The Foundation section offers subscribers a more advanced foray into the techniques included in Take10, with exercises building to 20 minutes. Subscribers using the Series section can focus on topics of health, performance, or relationships, or use Headspace Pro, a series of 10 session "packs" specializing in particular meditation challenges. Finally, the Singles provide brief one-off exercises targeted to combat bouts of heightened disquietude; exercises to apply to such quotidian activities as eating, walking, and commuting; and, for infrequent or curious users, guided and unguided one-off sessions ranging from 10 to 60 minutes in length.
Puddicombe is aware but unfazed by the potential perils of charging a flat rate for unlimited content. With a user base spanning over 150 countries thanks to its intercontinental presence, "we have an extremely healthy number of people who want to subscribe and deepen their practice," he said.
Having enjoyed exceptional growth since Headspace's inception, Puddicombe is eager to develop and hone more mindfulness techniques in his quest to make an ancient practice more accessible to the modern user. "We have just launched V2, which is very exciting...We're lucky, in that the basis of our product has been refined over 3,000 years," he said.
Images via Facebook.
Have a news tip for us or know of a company that deserves coverage? Let us know and follow us on LinkedIn.